Grind and Polish Process
1. Grinding
Floor is ground with coarse diamonds to remove any coatings, glues, mastics or mortars, and to profile for further treatment. Grinding usually involves two stages of diamond grits.
2. Application
At this point in the process, we apply dye color if appropriate, and apply a densifier/hardener. This makes the concrete floor surface tough and abrasion resistant.
3. Honing
Medium-grit diamond tooling is used to "hone" the concrete surface in preparation for polishing.
4. Polishing
Finer grit polishing diamonds are used to achieve the final gloss level, usually 3,000 grit for a high gloss.
5. Finishing
A stain guard material is applied and mechanically burnished into the concrete surface for maximum protection.
Dye Color Chart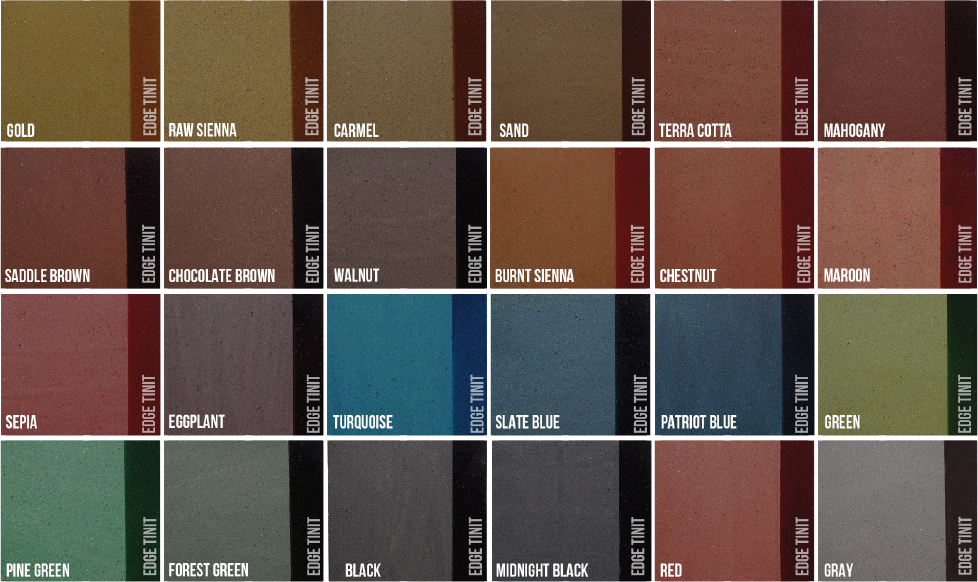 Application of Logos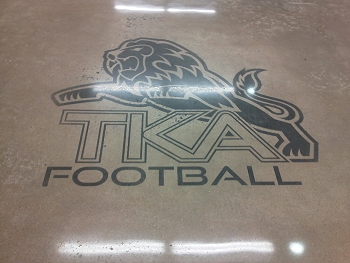 You can have a permanent logo in your polished concrete floor. Logos could include your business logo, a sports team logo, automotive logo, or any other hobby you choose!
The logo is applied early in the polishing process and, during the completion of the resin diamond polishing steps, the logo becomes a permanent and highly durable part of the polished concrete floor.
Use your imagination to create a floor that reflects your personality!
Your Concrete
Every concrete pour is a little different. In some circumstances, your polished concrete floor will exhibit some very small imperfection, such as tiny holes, or "vugs," in the polished surface. Depending upon the hardness and condition of the "cap" of your concrete floor, and the level of service you have selected, most of the floor may have a more salt and pepper look, while portions of the floor may show of an exposed aggregate finish due to high spots left after the finishing process of the original concrete pour. These factors give your concrete floor its' own

personality

.
Our Equipment
Reflective Floor Treatments, Inc. utilizes large industrial grinding and polishing machines and vacuum systems. This allows us to complete floor grinding and polishing jobs in the minimum amount of time possible, and provides the best finished floor surfaces available.